FLASH DISCOUNT


35% OFF ALL COURSES - use code ULEARN at checkout
Hospitality Supervision and Leadership (RQF) Diploma Level 3 Course 8 Lessons only £2229.99
We may also have an interest free payment plan on this course, please click on the fees tab for more information.
Hospitality Supervision and Leadership (RQF) Diploma Level 3
Enrol on a nationally recognised qualification that focuses on job satisfaction and career progression. This Diploma in Hospitality Supervision and Leadership (RQF) (600/2054/4) is aimed at learners who would like to progress within the hospitality industry.
This qualification is suitable if you have experience working in the hospitality industry and want to progress your skills further. You should already be competent in areas such as front of house operations, maintaining health and safety, hygiene, be a team player and have a professional attitude when dealing with customers. Perhaps now you're looking to move into a supervisory role where you will manage staff and the day to day operations of a hospitality business.
What will you study on this hospitality supervision and leadership course?
This qualification allows you to develop your knowledge in areas such as supervising the work of staff, leading a team, food safety, control of resources, food service, promoting hospitality products and services and health and safety.
Am I required to have a placement?
For this Diploma, you will need to be working in an appropriate environment where you can access and supervise staff for front of house operations. Throughout the course you will be asked to provide evidence from your workplace to show that you are currently engaging in your duties as supervisor, and you will be expected to be able to have a level of competence supervising staff ready to be observed by your assessor.
The observations will be carried out towards the end of your programme and your assessor will expect to watch you supervising staff, managing your team, carrying out meetings, mentoring staff, maintaining health and safety, managing resources in your area of responsibility, as well as performing the normal duties of a supervisor in the hospitality industry to prove your competency over a period of time.
What can I do on completion of the Hospitality Supervision and Leadership course?
On completion of this qualification you may choose to undertake further study/qualifications. You could progress to include: a level 4 in management or alternatively, you may wish to seek employment as: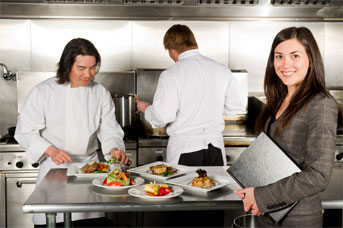 • Unit manager
• Front of house manager
• Duty/hotel supervisor/manager
• Regional supervisor/manager in restaurant or pub chain
Once qualified a supervisor can progress into a role as a qualified duty hotel manager where they could earn up to £28,000 per annum" (Source: payscale.com)
This is a great opportunity for students to put the theory into practice and achieve the full level 3 qualification on completion of the course.