Hospitality Supervision and Leadership (RQF) Diploma NVQ Level 3 Course 8 Lessons only £1659.99
PAY IN FULL AND GET THE DISCOUNTED

NEW PRICE £1244.99
OR PAY BY INSTALMENTS STARTING WITH JUST

£9.99 DEPOSIT
19+ Advanced Learner Loans are available on this course.
We may also have an interest free payment plan on this course, please click on the fees tab for more information.
Over 19 and living in the UK?
Limited number of 19+ loans available on this course
offer expires 28 Feb 2017
1
9
9
Hospitality Supervision and Leadership (RQF) Diploma NVQ Level 3
Enrol on a nationally recognised qualification that focuses on job satisfaction and career progression. The Level 3 NVQ Diploma in Hospitality Supervision and Leadership (RQF) (601/5693/4) is aimed learners who would like to progress within the hospitality industry.
This qualification is suitable if you have experience working in the hospitality industry and want to progress your skills further. You should already be competent in areas such as front of house operations, maintaining health and safety, hygiene, be a team player and have a professional attitude when dealing with customers. Perhaps now you're looking to move into a supervisory role where you will manage staff and the day to day operations of a hospitality business.
What will you study on this hospitality supervision and leadership course?
This qualification allows you to develop your knowledge in areas such as supervising the work of staff, leading a team, food safety, control of resources, food service, promoting hospitality products and services and health and safety.
Am I required to have a placement?
As this is a National Vocational Qualification (NVQ), you need to be working in an appropriate environment where you can access and supervise staff for front of house operations. Throughout the course you will be asked to provide evidence from your workplace to show that you are currently engaging in your duties as supervisor, and you will be expected to be able to have a level of competence supervising staff ready to be observed by your assessor.
The observations will be carried out towards the end of your programme and your assessor will expect to watch you supervising staff, managing your team, carrying out meetings, mentoring staff, maintaining health and safety, managing resources in your area of responsibility, as well as performing the normal duties of a supervisor in the hospitality industry to prove your competency over a period of time.
What can I do on completion of the Hospitality Supervision and Leadership (NVQ) course?
On completion of this qualification you may choose to undertake further study/qualifications. You could progress to include: a level 4 in management or alternatively, you may wish to seek employment as: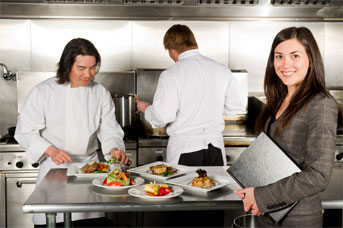 • Unit manager
• Front of house manager
• Duty/hotel supervisor/manager
• Regional supervisor/manager in restaurant or pub chain
Once qualified a supervisor can progress into a role as a qualified duty hotel manager where they could earn up to £28,000 per annum" (Source: payscale.com)
This is a great opportunity for students to put the theory into practice and achieve the full level 3 NVQ qualification on completion of the course.
Yes, there is Government funding available for doing this course...
You can choose to fund this course privately, yourself, or you could get a 19+ Advanced Learner Loan. Stonebridge has partnered with Dimensions Training Solutions, who are accountable to the Skills Funding Agency (SFA) and Ofsted, to provide this course with Government backed funding. Through Dimensions Training Solutions, you can access your 19+ Advanced Learner Loan, if you meet the criteria. The two main conditions are:
You need to be aged 19 or over
You need to be a UK citizen.
Would a 19+ Advanced Learner Loan make any difference to my course?
Yes, when you study using this kind of funding, "Dimensions Training Solutions" deliver your course and it does offer considerably more than the same one without the 19+ funding loan.
Enhanced course content
Six Employability and Independent Learning Skills (EILS) modules are embedded in the content of your course: Maths, English, Digital Life Skills, Confidence, Resilience and Meeting Deadlines.
You can choose to study a further four: Workplace Ready, Initiative, Teamwork and Problem Solving. These are all designed to boost your personal skill level and help your career progression.
Additional personal support
A Student Support Officer (SSO) will be assigned to you, so you have a single point of contact throughout your course to support you with any admin issues.
Dimensions Training Solutions regularly update the SFA with details of study hours, and evidence of learning, in order to responsibly account for your course funding.
You will have an Individual Learning Plan with a set "finish date" and your SSO is there to encourage and help you stay on course. This is in addition to your Assessor, who assesses your work and provides personal constructive feedback.
The difference between courses funded by 19+ loan and privately funded courses when you enrol from the Stonebridge website
Features
Course funded
by 19+ Advanced
Learner Loan
Course funded Privately
Personal Student Support Officer assigned to you
✖
Personal Assessor Support assigned to you
Automatic embedding of 6 key Employability and Independent Learning Skills (EILS) in course
✖
10 EILS available
Course delivered by Dimensions Training Solutions
✖
Course delivered by Stonebridge Associated Colleges
✖
Individual Learning Plan with a set "finish date"
✖
Flexible deadline to finish your course
✖
Online study delivery
Postal study delivery
Payment in full or in instalments while you study
✖
Eligibility requirement for loan
✖
Nothing to pay until course is finished and you earn over £21,000 pa.
✖
Courses on the Stonebridge website funded by 19+ Advanced Learner Loans are delivered by Dimensions Training Solutions
Dimensions Training Solutions are rated "Good" by Ofsted